REPRESENTATION:
The Netherlands (exclusive)
Worldwide (non-exclusive)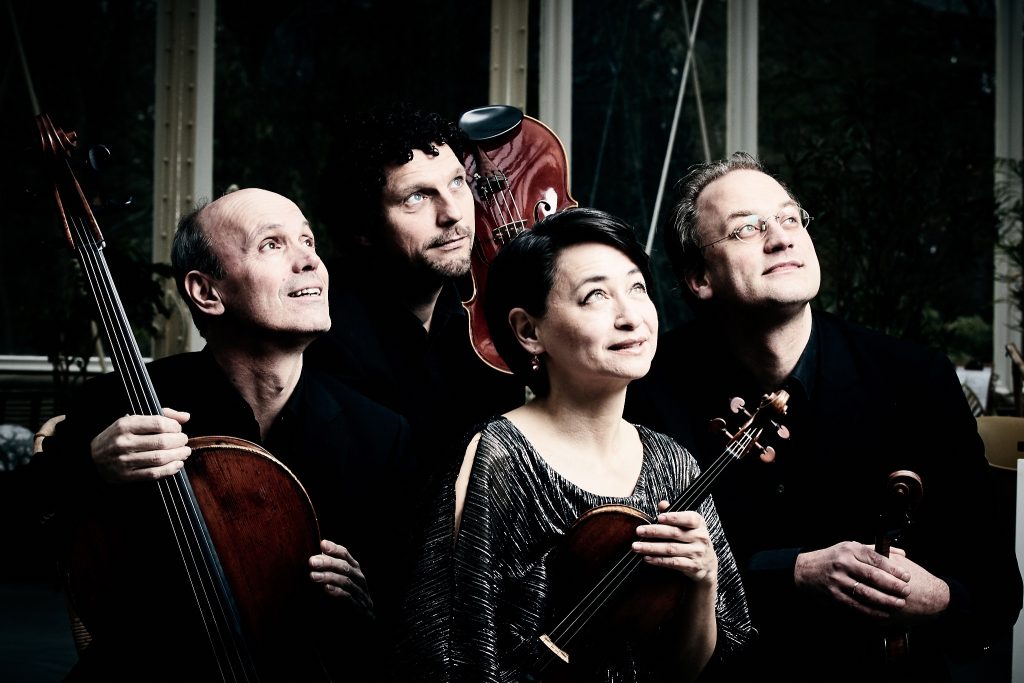 Inspired by the famous Dutch painter Jacob van Ruysdael, known for his impressive landscapes and dramatic skies, the Ruysdael Quartet has become renowned for its intensive playing and nuanced sound palette.
In September 2019, Michael Müller has succeeded Jeroen den Herder as cellist. Michael has played with some prominent quartets in the past, like the Párkányì Quartet.

Joris van Rijn, violin
Emi Ohi Resnick, violin
Gijs Kramers, viola
Michael Müller, cello
The Ruysdael Quartet was formed in 1996, when all members were studying at the Conservatory in The Hague. In addition to their regular teachers they had lessons with the Amadeus Quartet, the Hagen Quartet and the Quatuor Mosaïques. Over a two-year period, they studied with the Alban Berg Quartet at the "Hochschule für Musik" in Cologne. Within a few years the Ruysdael Quartet established its name both in the Netherlands and abroad, and has ever since been regularly invited to take part in festivals and masterclasses, resulting in performances not only in Europe but also in Australia and the USA.
The Ruysdael Quartet received a full scholarship to attend the 'International Chamber Music Academy Prague-Vienna-Budapest' (1999-2001) where they won the Bela Bartók Prize (1999), the Alban Berg Prize (2000) and the Tomastik-Infeld Prize (2001) with an invitation to make a recording for the Austrian National Radio.
The quartet were winners of the 'Charles Hennen International Chamber Music Competition 2000' in Holland and were awarded the 'Prix de la SACEM' at the International String Quartet Competition 2001 in Bordeaux. In March 2002 they received the Press Prize and the AVRO Prize in the 'Vriendenkrans' competition in the Concertgebouw in Amsterdam. More recently they were recipients of the prestigious "Kersjes van de Groenekan" Prize, a major musical award in the Netherlands.
Alongside performing the classical string quartet repertoire the Ruysdael Quartet are frequently involved in contemporary projects. In 2005 they toured with the eminent Dutch composer Jacob ter Veldhuis with an innovative programme based around his 3rd quartet. In 2006 the Quartet perfomed both Louis Toebosch's string quartets and in 2009 Eric Verbugt wrote his "Aufgerichtet, untereinander" especially for the quartet. In 2011 a programme with Rob Zuidam was performed. Next to this the Ruysdaels regularly play together with prominent guest musicians like Raphael Wallfisch, Gavriel Lipkind, Dmitri Ferschtmann, Igor Roma and Johannette Zomer.
In June 2015 the first Zoom! chamber music festival took place. The Ruysdaels are founders of this annual event and so far four succesful festivals have been organised. Next to the quartet itself many international artists have been peforming, like Nino Gvetadze, the Doric String Quartet, pianists Alexander Madzar, Simon Crawford-Phillips and clarinettist and composer Jörg Widmann.
The Ruysdael Quartet has recorded 4 CD's.
.