REPRESENTATION: General Management
DVD AVAILABLE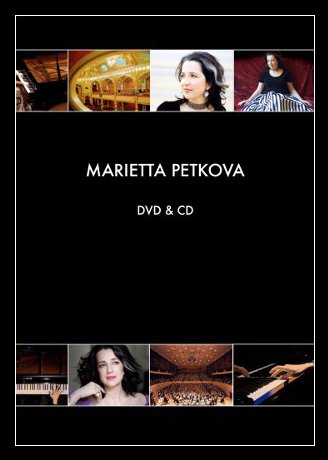 "A world class pianist"
Die Rheinpfalz
"Petkova is a divinely inspired natural talent"
NRC Handelsblad
"Incandescent poetry, limitless imagination, dazzling virtuosity"
Journal de Genève
The Bulgarian master pianist Marietta Petkova is regarded as one of the most authentic musicians of our time. Her stage presence is both disarming and sovereign. When she performs, she is completely immersed in the music and thus capable of deeply moving her listeners. This counts not only for her famous Rachmaninov interpretations, but also for her Mozart, Schubert, Schumann, Chopin, Liszt, Brahms, Scriabin and Bartók.
Marietta Petkova has an extensive international career as a recitalist and as soloist with renowned orchestras. She performs in prestigious festivals and concert halls such as the Amsterdam Concertgebouw, Salle Pleyel in Paris, Liederhalle Stuttgart, Beethoven Haus Bonn, Tonhalle Zürich, Salle Paderewski Lausanne and Victoria Hall Geneva.
For her solo CD's, Marietta Petkova prefers the vividness of live recordings. Her discography received high acclaim from the international press (Répertoire 10, Luister 10, Musica*****, NRC Handelsblad*****).
Watch the videos for a quick impression!