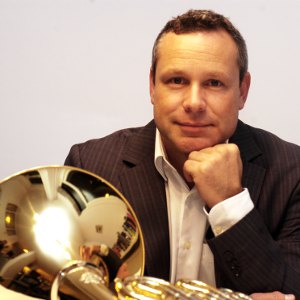 REPRESENTATION:
Worldwide (non-exclusive)
"Jasper de Waal, a master of smooth legato playing" raff.org
"The Royal Concertgebouw Orchestra has a world class horn player." amazon.co.uk
"His playing is on a level with such greats as Dennis Brain, Barry Tuckwell, Alan Civil en Hermann Baumann" Opus Klassiek
Jasper de Waal is not only known as the beloved principal hornist of the Royal Concertgebouw Orchestra (2004-2012), he is also a world class soloist, giving masterclasses and playing concertos and recitals around the world.
His recent performances (September 2012) as a soloist with the Royal Concertgebouw Orchestra in Britten's Serenade for horn, tenor (Ian Bostridge) and orchestra have been praised by the Dutch national press: "grandiose", "untaintedly pure", "rendering almost three-dimensional sound effects, from masterly sublime to playfully virtuoso" (Noordhollands Dagblad), "His playing was of a rare beauty" (Volkskrant), "Jasper de Waal played wonderfully" (Het Parool).
Jasper de Waal received his first instrumental lessons from his musically talented father. In 1983 and 1984 he won various regional music competitions. He studied at the Brabant Conservatory with Herman Jeurissen, graduating in 1988.  He continued his education at the Royal Conservatory in The Hague, with Vicente Zarzo and received his Performance Degree in 1990.
Shortly thereafter he was appointed assistant principal horn in the Residentie Orchestra in The Hague. A year later he became principal horn in that same orchestra, following in the footsteps of his teacher Vicente Zarzo.
Jasper de Waal has been principal horn of the Royal Concertgebouw Orchestra from 2004 unril 2012, having worked with conductors such as Mariss Jansons, Bernard Haitink and Zubin Mehta.
Jasper de Waal has performed as a soloist with the Royal Concertgebouw Orchestra, Edinburgh Chamber Orchestra, The Hague Philharmonic, Concertgebouw Chamber Orchestra, Potsdammer Philharmonie, Philharmonia Transylvania, Mittelsächsische Philharmonie, Philharmonisches Orchester Hagen, Camerata Amsterdam and with conductors such as Jevgeni Svetlanov, Jaap van Zweden, Alexandru Lascae, George Pehlivanian a.o..
Jasper de Waal's first CD, containing Horn Concertos by Joseph and Michael Haydn with the Concertgebouw Chamber Orchestra, was extremely well received (Channel Classics, 2010). In 2012, a new recording has been released of Britten's Serenade with Sinfonietta Amsterdam. A CD with Mozart Concertos will be recorded in 2014.
As a guest teacher, Jasper de Waal is affiliated with the Amsterdam Conservatory, the Royal Conservatory The Hague and the Fontys  Academy in Tilburg.