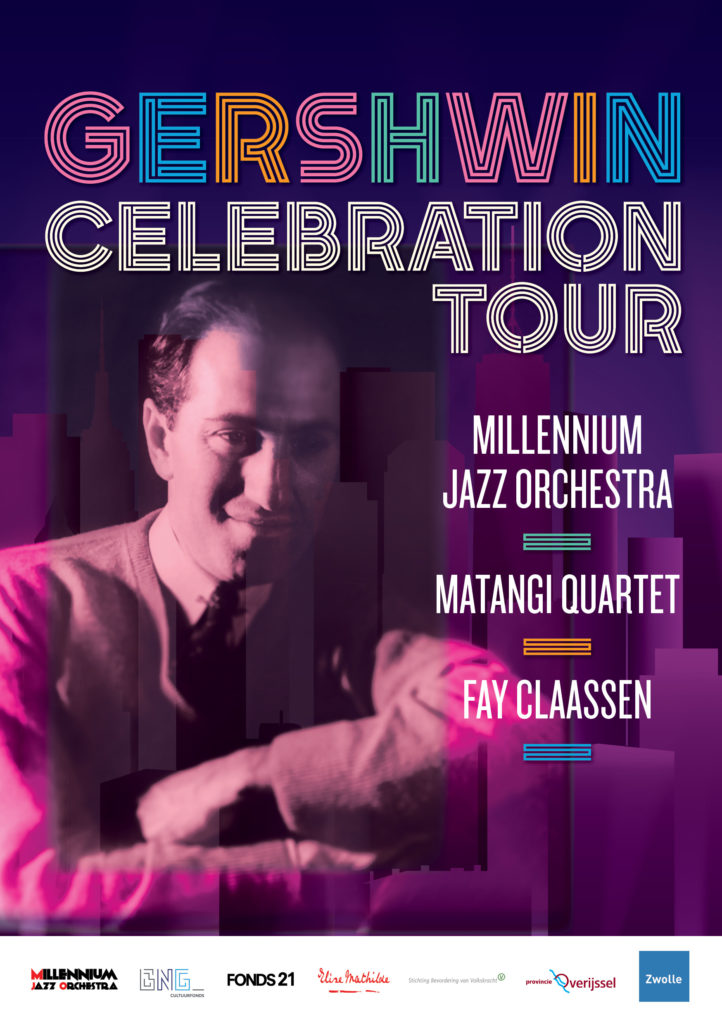 REPRESENTATION:
The Netherlands (exclusive)
De typisch Amerikaanse muziek van George Gershwin wordt na 100 jaar in een nieuwe, eigentijdse jas gestoken. Bekende en onbekende werken zullen te horen zijn in een unieke bezetting voor zang, strijkkwartet en jazzorkest!
De prachtige stem van Fay Claassen (ze won onlangs twee Edisons!) voegt zich bij het fascinerende Matangi Quartet en het veelzijdige Millennium Jazz Orchestra o.l.v. Joan Reinders.
Reinders' hercomposities staan garant voor hedendaagse 'grooves' en verrassende ritmische wendingen. De integratie van een strijkkwartet in een jazzorkest is zeer innovatief en leidt tot opwindende instrumentaties en nieuwe muzikale vormen. 
Het programma bevat een bijzondere primeur: de overbekende 'Rhapsody in Blue', met in de hoofdrol niet de piano maar het strijkkwartet, begeleid door jazzorkest!
Bekende melodieën uit de opera 'Porgy & Bess' worden tot klinken gebracht door zangeres Fay Claassen, afwisselend begeleid door bigband en strijkkwartet of een combinatie daaruit. Ook zijn er intieme zettingen met alleen strijkers en zang.
Op het programma staan verder veel bekende, aan Broadway gerelateerde melodieën en minder bekende pareltjes van ongeveer 100 jaar geleden.
Vette bigbandklanken worden afgewisseld met fragiele strijkers en prachtige ballads. Nu eens zal Gershwin's muziek klinken als een feest der herkenning, dan weer als gloednieuw repertoire. Een cross-over om van te smullen!
.
Uit de pers:
'Het Millennium Jazz Orchestra vormt qua klank en inhoud een unicum binnen de wereld van de bigbands' (Jazzenzo, maart 2019) 
'Het is lastig om jezelf niet te verliezen in vele superlatieven, wanneer je de muziek van zangeres Fay Claassen hoort. [..]  Zij weet als geen ander je direct in het hart te raken met haar prachtige, spatzuivere en betekenisvolle stemgeluid' (uit het juryrapport van de Edison 2018 voor Fay Claassen).

Het altijd weer prikkelende Matangi Kwartet is 'uitgeriijpt tot een kwartet met een evenwichtige en homogene klank en een eigen ziel' (Volkskrant)

.

***